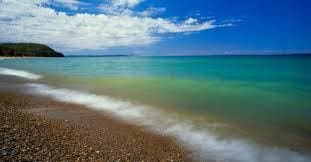 North Bar Lake is one of the most popular beaches in the Lakeshore because it has shallow, clear water over a sandy bottom makes for warmer swim than in Lake Michigan. But for those who like the refreshing cool water and wave action of the big lake, you can walk across the low dunes that separate the two lakes in just a couple of minutes. The beaches of pure sand and the small outlet to Lake Michigan is ideal for the kids to play.
Located in the town of Leland, in beautiful Leelanau County along the shores of Lake Michigan, Van's beach has been known forever to locals for its magnificent sunsets every night over the distant Manitou Islands.
Good Harbor Bay and the Leland breakwater are framed by Whaleback, Pyramid Point and The Manitou Islands. Van's Beach is widely recognized as being one of the finest freshwater beaches in The World.
This long stretch of sand has everything you could ever ask for in a beach: spectacular views, soft white sand, an aquamarine paint palette of Lake Michigan blue.
There's even a stream leading into the woods and a hiking trail. In fact, the only thing it really lacks is large populations of humans.
Michael Norton, a PR guy who let the cat out of the bag, says locals "who guard their secret beach rather fiercely" guiltily prefer to send tourists to the beaches at Empire and Grand Haven.
Once a bustling port with a sawmill, a hotel, a saloon and a 500-foot dock, Good Harbor Beach today has nothing but scenery, overlooking the Manitou Islands, Pyramid Point and Whaleback, a glacial moraine that looks exactly like it sounds.
The marked access road to Good Harbor is just off Leelanau County Road 651.