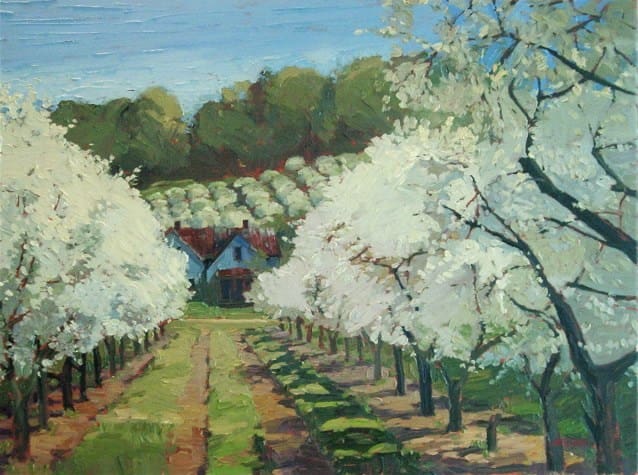 In addition to showcasing 46 artists and 2 student artists for you to get to know and shop from, Traverse Higher Art will be featuring an artist reception with live music , happy hour and an art raffle with proceeds going to Speak Up. July 29-30 from 10am-6pm.
A native of Northern Michigan, Jean Larson was born in Ishpeming, a small mining town in the Upper Peninsula. She grew up in Traverse City on the shores of Lake Michigan where she established a small studio and worked until 1984 when she moved to Boston in order to broaden here exposure to the art world. Within five years Jean's work gained enormous recognition both at home and abroad, and her paintings can now be found in a number of private collections in North America, Europe, Asia and Australasia, and she is presented by galleries across the United States. In 1992 Jean left the United States to settle in a small village in Southern France where once again, the natural environment provided further inspiration for here art. In 2010, she spent a year in Iceland where she began to use photography to deepen her expression of the places where the natural world and the humans both interconnect and colide. In 2011 and 2012 travels took her to a remote part of the Democratic Republic of the Congo where this time the people, particularly the children, were the source of inspiration for her work. She now expects to spend her time between New York, Iceland, Northern Michigan with periodic visits back to Africa.
Northern Michigan gives us the most glorious sunsets, sunrises and majestic skies. We never know if the weather predictions are correct, or even close, but the skies tell a story. Will Case gives us another reason to look up and enjoy his amazing weathervanes.
Will's work can be seen at his shop in the center of the Village of Suttons Bay, 305 N. St. Joseph Street, or on many local buildings; the Chamber of Commerce, Traverse City public library and Visitor's Center, also in many other states: California, Oregon, Washington, D.C., Kentucky, and most dear to us – the top of the bell tower of the Stone Schoolhouse.
(From her bio on her website) "I began painting out of necessity.
Starting late in life, and as a way to cope with the loss of a relationship and a business, painting served as my creative outlet and my life vest. Early on, the artwork I created was angry and a direct reflection of my circumstances. It was childlike, and literal. Friends and family encouraged me to continue. Over the next couple of years, I began to explore figurative work and used acrylic paint and developed a distinctive style and love for portraits.
Being a self-taught artist, I have been free to explore all types of mediums, styles and painting implements on my own. Over the years I have felt my work and a need for my work to push towards the realm of abstract expressionism. I find it deeply satisfying to be able to now express an emotion or a point of view in a less literal way, inviting the viewer to create their own intention behind a particular painting. I think I was always working towards this style of painting, but needed to get the foundation and structure of figurative work cemented first.
Presently I paint primarily using oils, mixed with unconventional mediums, and I mainly utilize pallet knives or household implements, such as spatulas or spoons. I work on each piece to create something that looks weathered, and has something floating beneath a surface or is coming up out of a depth. I enjoy what can be seen between the cracks and layers. I find myself exploring what is often not said through what people say, and translate this into a painting. I enjoy finding what people try to keep hidden, and try to convey this with my paintings. Just like when I first began painting to serve as a way to release my emotions, the same is true today. Whether it's a deeper feeling regarding helplessness in this world, or something which is just weighing on me such as an argument with someone, it always gets worked out on the canvas.
I have a lifetime of learning to do, and plan on exploring it through art the entire way…."

Shanny's work can be viewed at the Art & Soul Gallery and in Premier Gift (inside Building 50) – both in Traverse City.