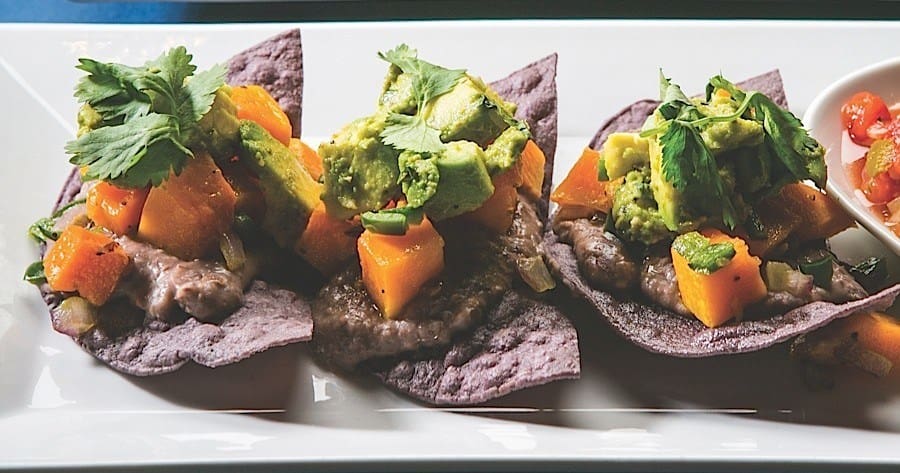 303 N. ST. JOSEPH ST., SUTTONS BAY; 231-271-1175 9BEANROWS.COM
This new place is an absolute little gem of fine dining in a casual atmosphere. Many worship the lamb burger for either lunch or dinner, but the menu also offers good, serious items: a risotto with butternut squash and roasted mushrooms topped with walnut and apple; pork osso bucco braised in milk and served with kale and borlotti beans; and rabbit braised in white wine and served with herbed farro gremolata and glazed parsnips.
413 ST. JOSEPH ST., SUTTONS BAY; 231-271-2344
A European-style bistro, inspired by the owner's travels to Europe. The Suttons Bay restaurant works hard to create a cosy and inviting atmosphere, and then emphasis is on the food made from scratch. Every year, Martha herself leads foodie tours to Europe, and customers can enroll on her Traverse City cookery classes if they want to recreate Martha's delicious meals at home. With items on the menu like authentic paella and Swiss raclette, it's no wonder customers want to learn how to cook like Martha.

Get directions from Google HERE.
103 W. PHILIP ST., LAKE LEELANAU; 231-256-9912 DICKSPOURHOUSE.COM
If you are looking for a throwback to the simple basic traditional fish fry and hamburger place where the locals hang out, it doesn't get better than this wood-paneled, drop-ceilinged, ever-busy watering hole where the pickup truck and beer on tap still reign. And harried servers deliver plates under the dead-eyed gaze of mounted deer heads and antler plaques for a genuine Up North atmosphere.
Arrive by boat or car at this highly popular family style restaurant that has dockside parking, sunny, pretty rooms in the front, and more rustic deck dining out back. The menu includes house-made charcuterie choices — terrines, rillettes, coppa, and a selection of more traditional items: pork chops, whitefish, short ribs with gnocchi, and duck confit with duck breast.
9001 South Dunns Farm Rd,.Maple City; 231-334-3944
The original fine dining restaurant on the peninsula was launched two generations ago and now run for the last decade by Chef Guillaume Hazaël-Massieux. He keeps the menu brief and traditional: seared chicken breast with wild mushrooms, breaded whitefish with a beurre blanc, and duck two ways: a confit and a grilled breast in a demi-glace and sweet potato gratin, all done with style and elegance.

This article appears in the August 2014 issue of Hour Detroit.
111 N. St. Joseph Street, Suttons Bay; 231 866-4199
Neighborhood restaurant & bar specializing in seafood, sliders, pasta salads & flatbread pizzas with 16 beers on tap.
202 W. Main St.,Lake Leelanau,; 231-256-2222 
The service is as cheerful as the decor. Coffee cups never want for a warm up. The staff was thoughtful in making suggestions and generous with attention. One may sit inside or outside under the pergola, surrounded by barrels of pansies.
3324 S W BAY SHORE DR., SUTTONS BAY; 231-271-2600 LEELANAUCHEESE.COM